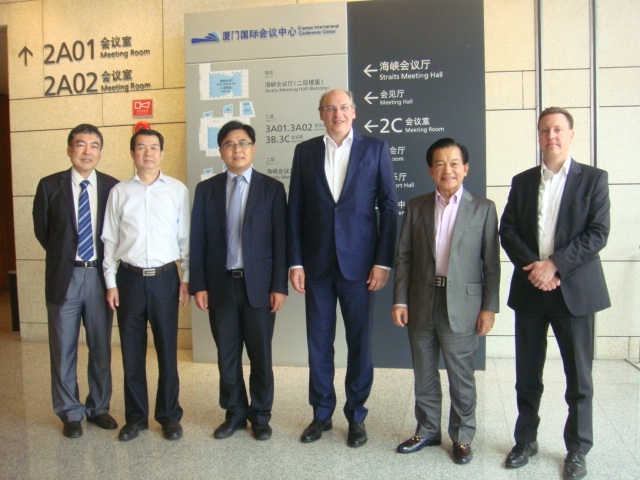 Government officials from Xiamen city, Fujian province, and directors from Finland Neste Oil Co pose for a photo at the Xiamen International Conference Center on May 25. [Photo/xmtdc.gov.cn]
A delegation from Neste, a Finnish oil company, visited Xiamen in Fujian province on May 25 to outline a renewable biodiesel project.
The delegation was led by the company's CEO, Matti Lievonen, and Sami Sainio, director of its renewable fuel oil business development department. The delegation visited the Xiamen Planning Exhibition Hall and investigated potential sites for the project in Haicang district and supporting facilities in the Xiamen Haicang Free Trade Port Zone.
Pei Jinjia, the Mayor of Xiamen, gave an explanation of the city's economic development to the delegation and said that the government would give its full support and cooperation to Neste Oil's renewable energy project.
Xiamen's Deputy Mayor, Zhan Canmin, talked with representatives from Neste Oil about the project, along with leading officials and representatives from governmental departments and enterprises, including the Xiamen Municipal Bureau of Commerce, Xiamen Municipal Bureau of Environmental Protection, China National Aviation Fuel and Xiamen Airlines.
Neste Oil was founded in 1948 and ranks among the biggest companies in the world producing commercialized renewable aviation fuel. As the largest state-owned corporation in Finland, it has biodiesel factories in the Netherlands, Singapore and Finland. The company's Rotterdam factory in the Netherlands is the biggest biodiesel plant in Europe.